These life-size pears range from the subtlety of the Bosc pears to red, green and yellow cores and another series that includes one with bites. They all were created using slip-casting molds designed and made by the artist and individually poured and colored, with glazes individually applied. That makes each one slightly different, a unique work of art. Each piece was bisque-fired and glaze-fired, plus iridescent and gold firinga. In the Bosc pear series, there was a choice of matte or gloss finishes for the traditionally colored pears, or one finished entirely in 18-karat gold except for the stem and leaf. The Bosc pear series was a 2001 winner of Niche Magazine's Niche Award. Lundin Kudo also created large, hand-built pears.
Click here to view them.
"Bosc Pear series" (2000)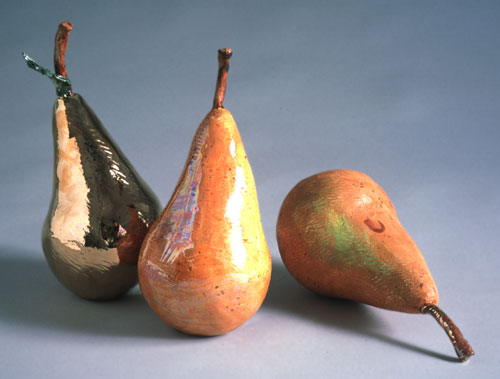 7.5 in. x 4.5 in x 4.5 in.
2001 Niche Award Winner